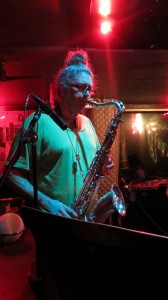 Date: Thursday, May 2, 2013…
Time: 9pm to 11pm…
Venue: Nublu (62 Ave C, between 4th and 5th Street in the Lower East Side)…
Ticket: $10…
SoSaLa performing "nu world trashy" music based on desert-Persian-Spanish blues styles and jazzy improvs.
The members are: Sohrab Saadat Ladjevardi on sax and vocals, Dave Ross on guitar, Michael Wimberly on drums, djembe & vocals, Bradley Madsen on electric trombone and John Pietaro on vibes. This is the first time that SoSaLa is without an oud and bass player. (Unfortunately Damon Banks on bass and Brian Prunka on oud and guitar left the band recently due to their commitments to their own solo projects.)
SoSaLa will be playing a 90 minutes long set performing the hit songs from the new CD SoSaLa "Nu World Trash": "New Welcome Iran", "Sad Sake," "Happy April Fool's Day", and new songs.
SoSaLa's purpose is to make you aware that music is free of any dogmas, rules and any kind of discrimination and injustice. For this reason SoSaLa has been supporting the musicians union Local 802 "Justice For Jazz Artists" movement.
Please follow and like us: