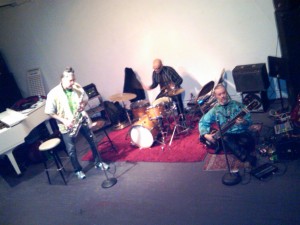 Dawoud
Date: Saturday, July 17, 2010
Time: 8:30pm
Venue: TheUniversity of The Streets/ Muhammad Salahuddeen Memorial Jazz Theater (130 east 7th street, at avenue A, 2nd floor. NY)
Ticket: $12
Genre: Indian music/contemporary/electronica
Sohrab Sadaat Ladjevardi (sax) is joining the band Dawoud with Dawoud Kringle on sitar, guitar & vocal  and  Ravish Momin on drums & laptop.
Much of the music that will be performed has never been performed or recorded. This concert is sponsored in part by www.theforgottenfoods.com and http://churchinthewildwoods.com/.
More about Dawoud in DBDBD.
Please follow and like us: