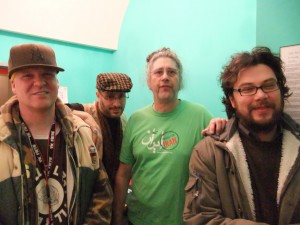 About the videos:
The Tehrdan-Dakar Brothers played the new tunes "Welcome New Iran" and JA-JOU-KA" at Le Poissson Rouge (NY) Nov.16th, 2009.
This time the members are: Sohrab Saadat Ladjevardi (sax & voc), Swiss Chriss (drums), Derek Nievergelt (bass) & John Kruth (on an ancient Egyptian clarinet, a low d penny whistle and a Gibson mandocello from the early 1900's).
"Welcome New Iran" is dedicated to the Iranian Green Movement and "JA-JOU-KA" is dedicated to Bachir Attar and The Master Musicians Of Jajouka (Morocco).
The videos were shot by Martin Bisi.
Sohrab is going to record these two songs during this month at BC studio in Brooklyn.
Please follow and like us: